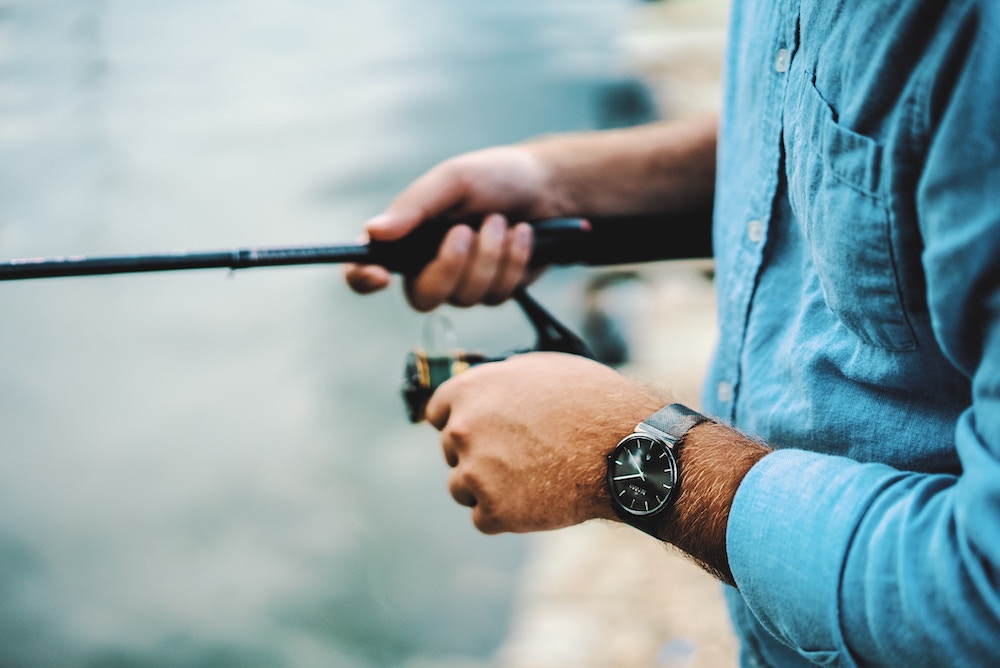 Queensland is the Sunshine State after all, so it's no surprise that fishing is a hugely popular hobby for Queenslanders young and old. There's nothing better than packing lunch, grabbing the gear, and heading out for a day of casting. We've put together a list of our favourite fishing spots near Brisbane for you to… tackle.
Bribie Island
Whether you're new to the fishing, or are loaded up with serious gear, fishing at Bribie Island offers up something for everyone. The Pumice Stone passage is home to a wide array of aquatic life, with plenty of fish, crabs, and prawns so is naturally a popular spot to try your luck.
Bongaree Jetty is great for fishing with the family, but it's popularity with swimmers and jet skiers means that your best bet for catching your lunch is to set out early in the morning before the crowds arrive. At Bongaree, you can expect to find mulloway, juvenile snapper, bream, and flathead – so make sure to bring your appetite!
If you do decide to head to the Pumice Stone Passage, make sure you check out the Moreton Bay website here to familiarise yourself with the areas of the island that allow fishing, and those that don't.
Hornibrook Bridge, Pine River
North of Brisbane, Hornibrook Bridge is a great place to head if you're fishing with kids in tow. Fishing at Hornibrook is best just before, and just after, high tide, and you can expect to nab some tailor, bream, whiting, and the occasional garfish.
With plenty of fantastic playgrounds and parks around, the area if the perfect spot for a family day out. And, if you have no luck catching your own, there's plenty of fish and chip shops nearby dishing up delicious take away to be enjoyed in the nearby picnic areas.
Kangaroo Park, Karana Downs
Just half an hour south west of Brisbane, Kangaroo Park at Karana Downs is a favourite for novice and advanced anglers. The fishing platform gives great access to the areas teeming fish and crab population.
Head down in the warmer months, and you'll find mullet and catfish. Make the journey in the cooler months and you'll find mud crabs aplenty.
With an enormous off-leash area nearby, your best canine mate can come along too making Kangaroo Park a spot that really is ideal for the WHOLE family!
The park also has a playground, public toilets, barbecue facilities, and sheltered picnic areas meaning it's a great spot regardless of the weather.
Mud Island, Moreton Bay
One for the more experienced angler, fishing off Mud Island is best at dusk and dawn, and the deeper areas to the north and south of the island attract mackerel and long tail tuna. This is saltwater fishing at it's best, and your patience at Mud Island will be rewarded with a decent catch.
About 5km from the mouth of the Brisbane River, Mud Island is an easy one to reach by boat, but it can get busy, so get in early to grab yourself a spot in the carpark or you'll be in for some stiff competition.
Nundah Creek and Nudgee Beach
Accesible by the Boondall Wetlands Park, the mouth of Nundah Creek is the place to be if you're looking for crabs! Bring your crab pots and your patience, and you'll be blown away by the quality of the catch at Nundah Creek.
With plenty of grassy areas, Nundah Creek and the surrounds are popular with families, and make for a great day out just a short drive from Brisbane. Load up a picnic and some games, and you'll have a fantastic time even if the crabs aren't nipping.
Take the short trip down the Nudgee Beach and hit the jetty if you're looking to hook some flathead, bream and jacks. Head a little way down O'Quinn street and drop a line near the dog park, and try your luck there while Fido runs off some energy.
If you're heading interstate, and want to check out fishing near other capital cities, make sure you read our top picks for Adelaide, Sydney, Perth  and Melbourne.
And, don't forget, if you're fishing and find yourself stuck with a flat battery or a car that just wont go, you can always holler for a Marshall on 1300 627 742