[masterslider alias="ms-1-1″]
TRUST MARSHALL BATTERIES, PEACE OF MIND SINCE 1935

WE COME TO YOU FOR SAFE CAR BATTERY REPLACEMENT & FAST ROADSIDE ASSISTANCE
We come to you
No membership needed
National Warranty up to 42 months*
Fast Roadside assistance for cars, boats, trucks, motorbikes and more... or visit your Marshall Store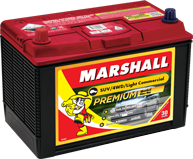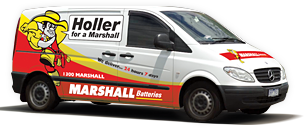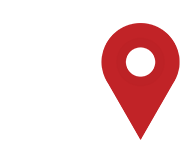 Battery Code Selector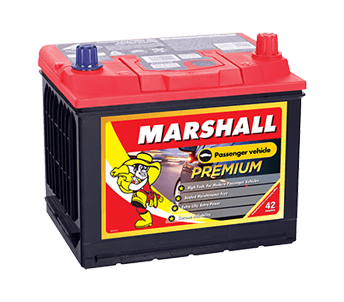 Get battery pricing information for your battery by entering your battery code
in the field below and selecting your battery.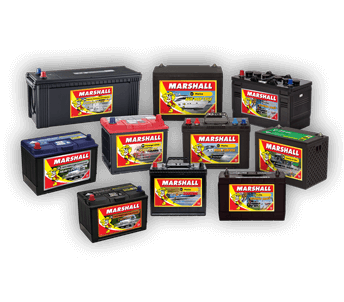 View our battery range to select a battery to suit your needs. Select by battery application or vehicle make, model and year. Or just phone us on
1300 627 742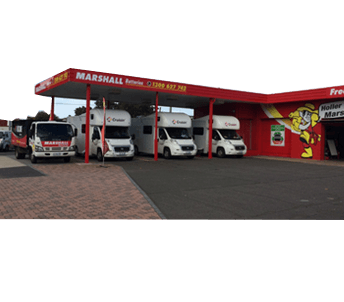 Find your nearest Marshall store right across Australia or Holler anytime on
1300 627 742
for your trusted battery specialist.
Find the right battery for your vehicle or application with our Battery Selector
Use the form below to find the right battery for your car, truck, 4WD or boat - in fact any type of battery across our huge range.
Select your Battery Application
Select an application below to see the full range of Marshall Batteries available, no matter what your budget or application.
For Superior Car Battery Replacement Australia Wide Trust the Experts
Do you need a New Car Battery? Marshall Batteries provides a superior roadside assistance service that painlessly gets you back on the road fast.
For over 80 years, Marshall has been servicing Australians with a leading nationwide car battery replacement service.
Our rapid response car battery replacement teams deliver
Quick Mobile Battery Service Response
Leading Team of Battery Specialists
Quality Battery Installation and Replacement Process
Great Value Premium Range of Batteries For Any Vehicle Type
Nationwide Roadside Warranty
Our trusted mobile car battery replacement services for all vehicle types will have you up and running again in no time.
If you have a flat battery and need urgent roadside assistance
Call us on 1300 627 742 day or night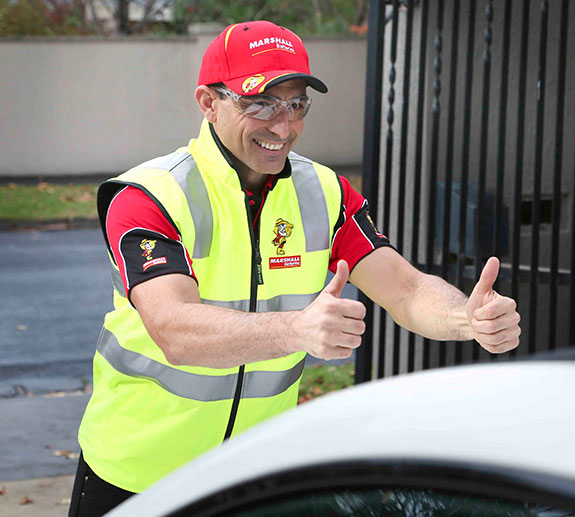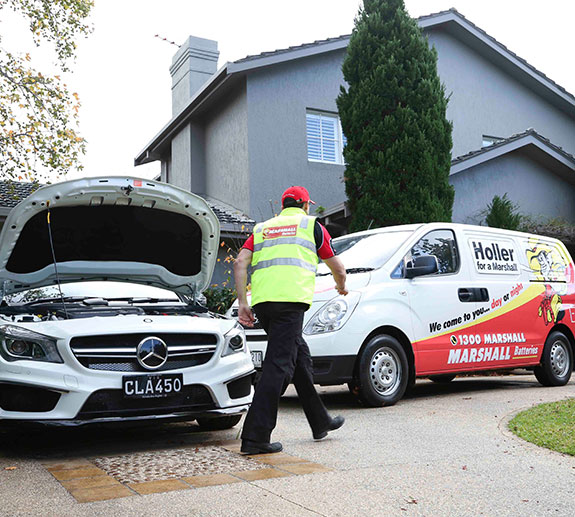 How Much Does a Car Battery Cost?
The average price of a car battery depends on the size of the car and the quality of the particular battery.
Cheap car batteries may seem like a good idea at the time but generally only last around 12 months due to their inferior materials and construction.
Cheap car batteries may end up costing you a lot more. You may need to replace the battery sooner than if you went for a quality car battery.
A good quality battery from Marshall Batteries should last 3+ years and come with our express nationwide warranty.
Small Cars
For a good quality car battery with 2-year warranty , battery prices are around $195
Larger Cars
Larger cars and SUV's prices are around$244 with a 3-year nationwide warranty. Given the higher demand for SUV and 4WD vehicle types, a more heavy duty battery is required which results in slightly higher battery prices.
Modern Cars
With the upgrades of automotive technology, more recent model vehicles rely on more added requirements from their car batteries.  With advanced battery monitoring systems, most modern cars will require a battery with silver calcium construction.
If you are looking to find out which battery your model/vehicle type requires, you can use our battery selector.
Where To Buy Car Batteries?
There are a couple of options available to you to purchase your next car battery.
Roadside Response
Most Australians only think of their battery when it dies. Marshall batteries are the most trusted company in Australia to get you back on the road fast.
Marshall Batteries has been providing nationwide roadside assistance for over 80 years and leads the market in product and service.
You might not know, we also provide roadside service for Boat Batteries, Truck Batteries, Truck Batteries, Start Stop Batteries and more.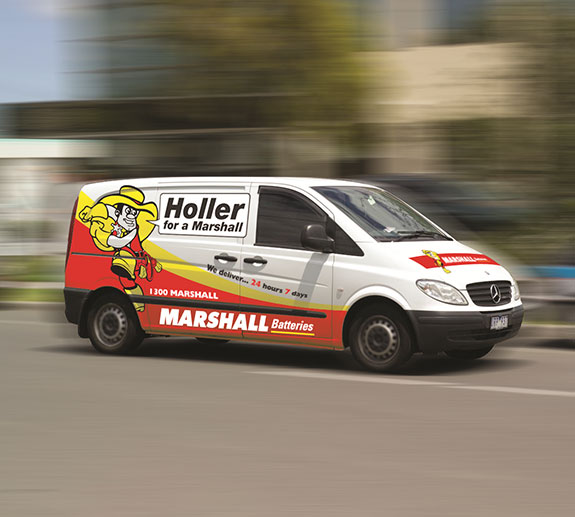 In-store
A convenient way to purchase batteries is through your local battery expert.
Marshall Battery Experts will ensure you get the correct battery for your vehicle type.
You can certainly purchase a car battery online, but this may not be the best solution. Without expert knowledge, you run the risk of buying the wrong battery for your vehicle/model type or fitting a battery wrongly that could cause problems with the vehicle.
Marshall Batteries nationwide dealer network has been trusted since 1935 and can fit your next battery, day or night.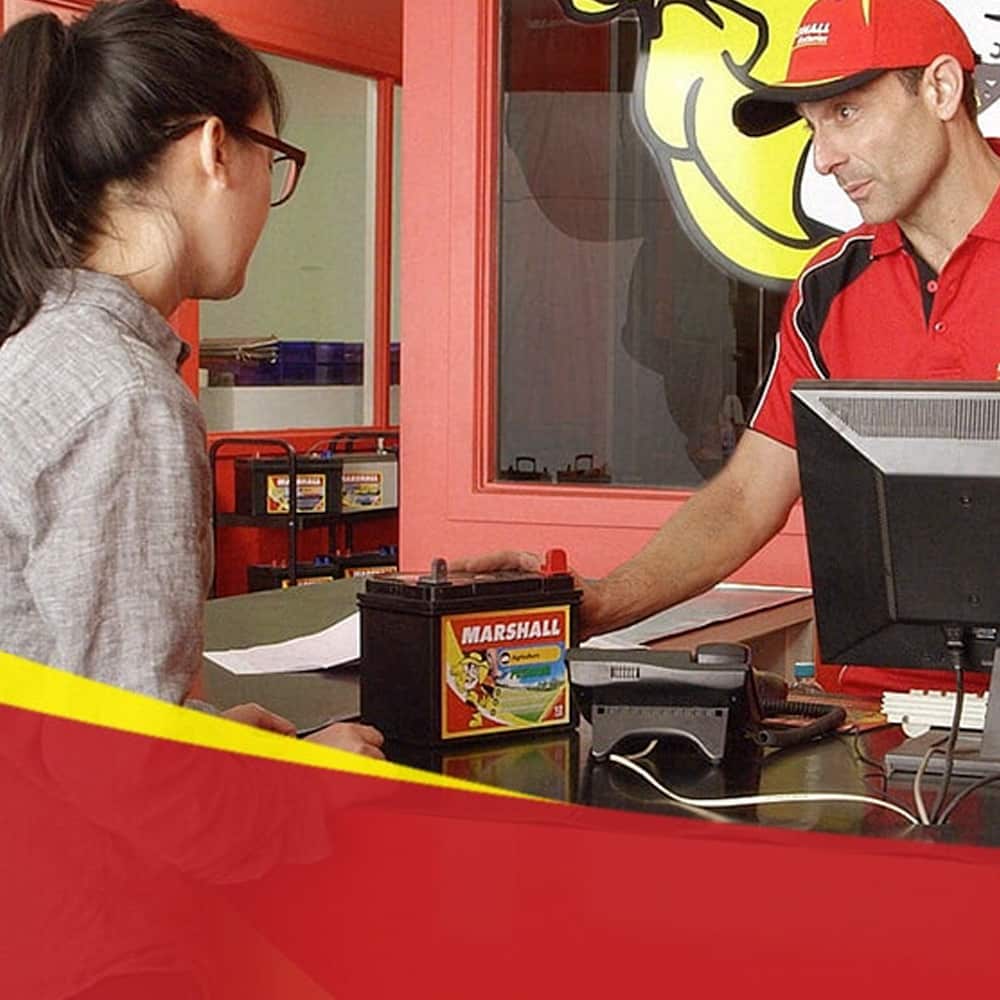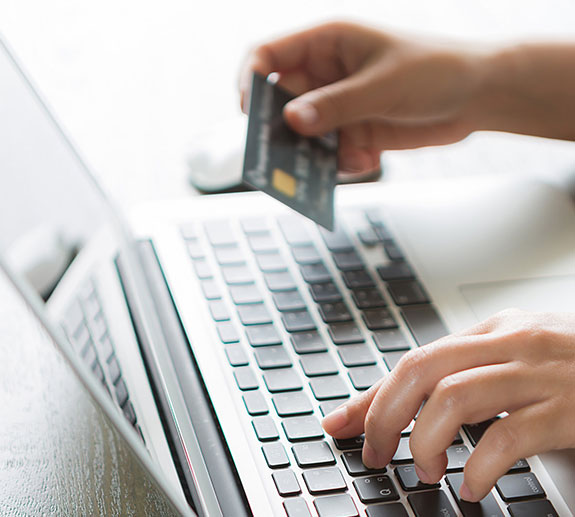 Find Car Batteries Near Me
Find your nearest Marshall Battery Dealer with our Store Locator
To see the latest car battery prices, you can request a quote online, or visit your local Marshall Dealer Locations.
We can provide you with everything you need to know when buying a new car battery for your vehicle.
How Do Car Batteries Work?
A car battery is an energy storage device that produces electricity as a result of a chemical reaction
The starter motor, ignition system, and fuel system are all operated through the stored electrical energy within the battery.
The alternator supplies the electricity needed to keep the engine running, along with all of the vehicle's systems. It also charges the battery to replace the energy used to start the car initially.
Marshall is committed to ensuring that you have a reliable car battery to maintain the performance of your vehicle. You can view our quality range of batteries online.
Each of our available products is manufactured with reliability and quality in mind,  providing you with the comfort that you will be able to get where you need to be.
How Long Should A Car Battery Last?
A car batteries charge is dependent on multiple factors including:
Frequency of Use
How often do you drive, and how far are you driving each time you commute by car?
During short trips, your alternator may not be getting enough time to charge your main electrical energy storage. Meaning that your battery is at a higher risk of running out of power. Choosing the right battery for your use is imperative, and Marshall prides itself on providing the best battery solution.
Battery Installation
Was your battery installed correctly?
With the ongoing development in the automotive industry, batteries have become more technical. This means that the task of replacing or installing a battery is no longer as simple as it once was.
You may require the expertise of a battery specialist, with access to the latest tools and equipment.
If you are unsure about the installation process, be sure to Holler for a Marshall. Our team of battery installation specialists have extensive training in working with a wide variety of battery types and vehicles.
Incorrect installation could result in the disruption of other systems that rely on electricity to operate within your car. These electrical systems may include your radio, air-conditioner and lights.
Other causes as a result of incorrect installation could include:
Shorter battery life as a result of under or overcharging
Damage to your car's various electrical components resulting in potentially costly repairs.
Climate
Temperature can affect the way in which the chemical reaction within your car battery occurs.
Extreme heat speeds up the chemical reaction shortening the battery life. Extreme cold can sometimes prolong battery life by slowing down the reaction.
An insulating sleeve covers most modern batteries with the aim of protecting the battery from extreme climates.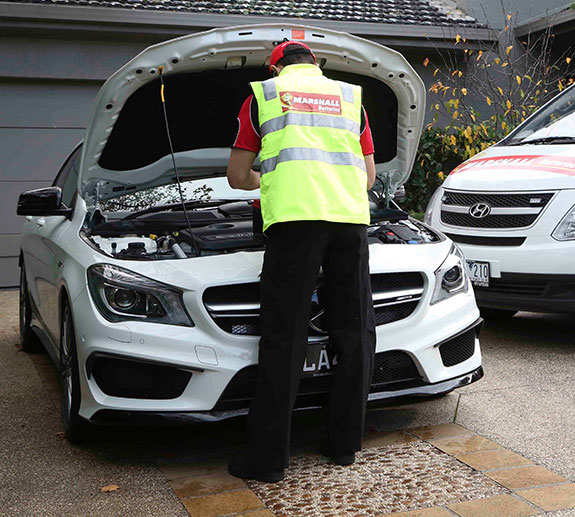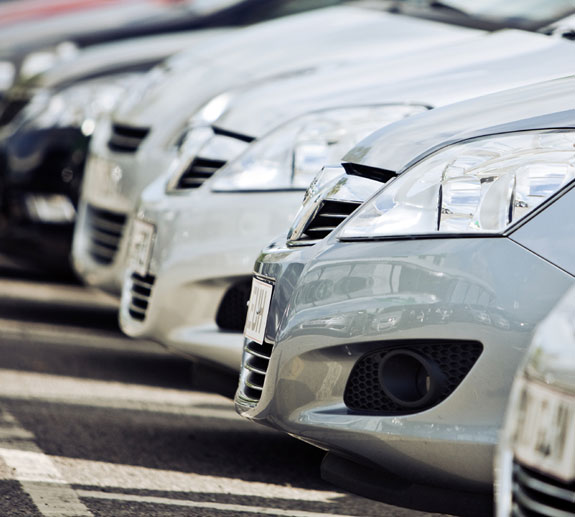 When Do You Need To Replace Your Car Battery?
If You Are Unable To Start Your Car
After several attempts to start your car, this may be a key indicator that it is time to consider replacing your battery.
A new battery has a specified capacity to provide power. This is referred to as the cranking amps rating of the battery. As a battery ages, the actual amps that a battery can supply becomes lower than its original rating. Once the cranking amps fall below a critical threshold, it will be difficult or impossible to start your car.
If Your Battery Or Charging Warning Light Is Illuminated
If you see your warning lights illuminated, it is an indication that something may not be right. You should get a car battery replacement specialist to test your battery and determine the best solution for your vehicle.
If Electrical Components Within Your Vehicle Are Not Working
If electrical systems are inactive, it is worth getting the assistance of a battery expert to test your car battery.
How Quickly Can Marshall Replace Car Batteries?
Marshall Car Battery Replacement Services will attend to your vehicle and test your car battery. If it is necessary to replace your car battery, Marshall can have you back on the road, usually within an hour.
One of the major perks that come with Marshall Batteries 24 hours Roadside Assistance is that you don't have to pay membership costs. Marshall will be there for you when you need.
Battery Breakdowns can occur in any place, at any time. Our team of battery specialists are committed to providing a leading national roadside assistance service 7 days a week.
Our 24/7 roadside assistance is available in all metropolitan cities and most regional areas across Australia.
Why You Should Avoid Cheap Car Batteries?
It can be tempting to look for the lowest car battery prices on the market. This can be an expensive mistake, as a car battery is one product that needs to constructed with the right materials to ensure reliability and performance.
Marshall makes it an absolute priority to ensure that each of our wide range of batteries meets the strictest quality standards. All our batteries meet OEM standards or greater.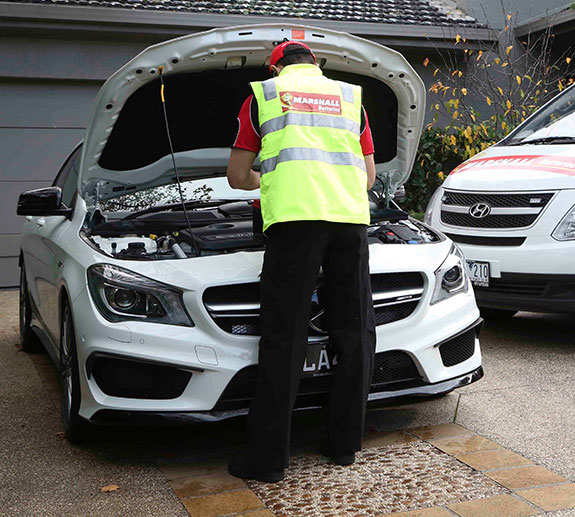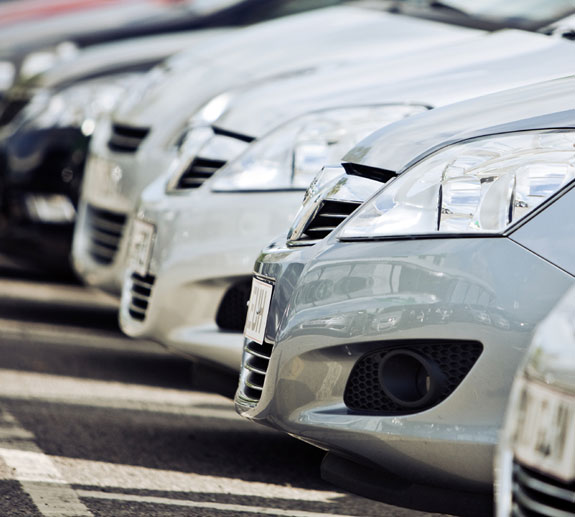 What Should I Consider When Buying A New Car Battery?
It is important to take into consideration an array of requirements and specifications, to best suit your vehicle including:
Size Of Battery
Ensuring you that your battery is suitable for the dimensions of your vehicle's battery tray is important. It helps to ensure that there is minimal damage arising from vibrations. Which is why having the right battery length, width and height is essential. Refer to your owner's manual or find out with the assistance of our online battery selector. Alternatively, Holler for a Marshall on 1300 627 742, and we can assist you.
Freshness
You should never buy a battery that is older than six months from the manufacturing date. Determining a batteries age is easy, check the code on the battery which consists of one letter and one number. The letter stands for the month, whereas the number stands for the year. e.g. J/8 would stand for October 2018
Reserve Capacity
The reserve capacity is the amount of time that a battery can run on its own power storage. This includes running without the engine, and before discharge. A car with a higher reserve capacity can withstand tough conditions such as alternator failure. A non-compliant engine or if someone has accidentally left the lights on, which is something that can happen to anyone.
Maintenance
Are you opting for a low maintenance battery or a maintenance-free battery?
Maintenance-free batteries are usually pre-sealed and they do not require replacement of liquid. Low maintenance battery is unsealed, and have caps that allow you to add distilled water when needed.
Do Marshall's Car Batteries Come With A Warranty?
Each of Marshall's car batteries come with a nationwide roadside warranty of up to 42 months*.
You can rest assured that your car battery will be reliable to get you where you need to be.
Find the right battery for your car online today.
Our categories include: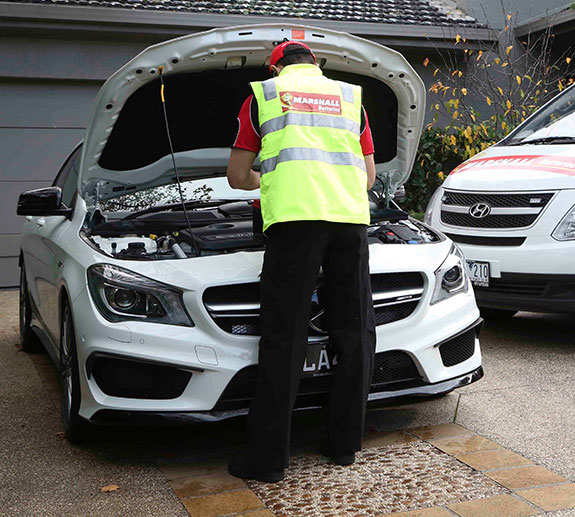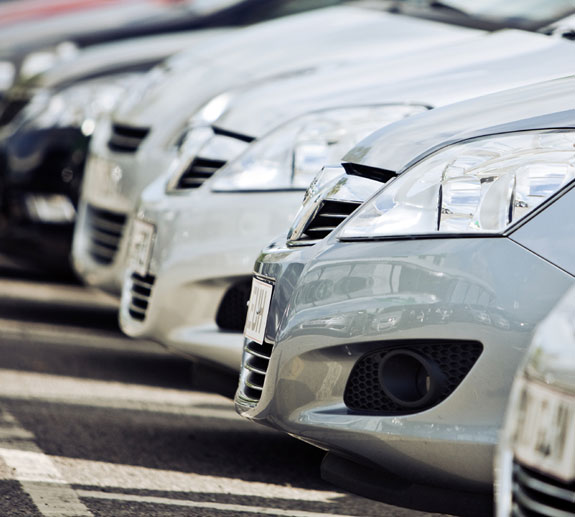 In Australia, Marshall Batteries has associations with large scale private and commercial fleets.
We provide battery replacement services to fleets such as Leaseplan, GE Custom Fleet, Orix, National Truck Insurance, Motorpass, Motorcharge, Caltex, NLC, Smart Leasing, Telstra Fleet and many more.
If you require battery assistance for your fleet, we can assist you via our nationwide services.
Alternatively, you can refer to your providers authorization for further instructions.
For more assistance and information regarding our Fleet Service Programs, be sure to get in touch with us, and we will connect you to our Marshall Fleet Manager to go through the service in greater context.
We can provide your medium to large scale fleet with a leading battery replacement service.
Emergency Roadside Assistance
Breakdown situations can occur at any time. If you get caught with a flat battery, have locked your keys in the car or your vehicle runs out of fuel, simply 'Holler for a Marshall', your trusted local emergency roadside assistance expert. Phone 1300 627 742 day or night.
Marshall Batteries has no annual membership fees or annoying roadside joining fees that make your breakdown experience even worse.
Did you know that Roadside Assistance membership does not include the cost of a battery?
Roadside Assistance providers charge you for the battery so don't settle for second best, choose Marshall, Australia's trusted battery specialist in Melbourne, Sydney, Brisbane, Hobart, Adelaide, Darwin and Perth.
Anyone can Holler for a Marshall day or night- Our Roadside Rescue services are available in all states of Australia and we offer a nationwide roadside battery extended warranty.
We are in the greater metropolitan areas of Adelaide, Brisbane, Canberra, Melbourne, Hobart, Launceston, Darwin & Sydney and right across Australia.
With no joining fee and no waiting period, its pay only when you need the service, putting you financially in front with a quality product and trusted service.
Real value is a longer lasting, quality batteries designed for the rigors of Australia. We also provide Fleet Services for cost effective maintenance for your car, truck or van fleets.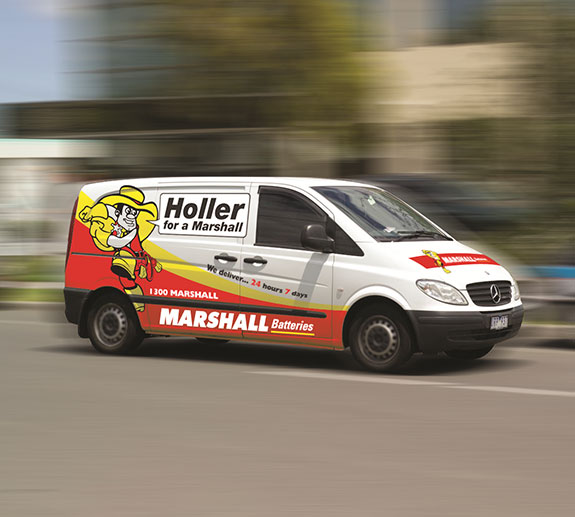 Marshall Performance Guarantee
Choose a trusted Marshall battery with superior performance and receive an extended nationwide roadside warranty, to look after you right across Australia.
Switch to Marshall
Switching to a Marshall battery is easy. Simply find your car battery code (listed on your battery) and enter into the field below. We will match your old battery to a superior Marshall product. Or if you need help just call us on 1300 627 742
Recycling Program
Help us protect the environment by recycling spent and used batteries and returning them to one of our Battery Collection Centres or call us on 1300 627 742 to arrange the safe recycling of your old battery.