Store Address
O'Briens Garage,
23 Swan Street,
LONGREACH,
QLD,
4730
Contact Details
1300 Holler (1300 465 537)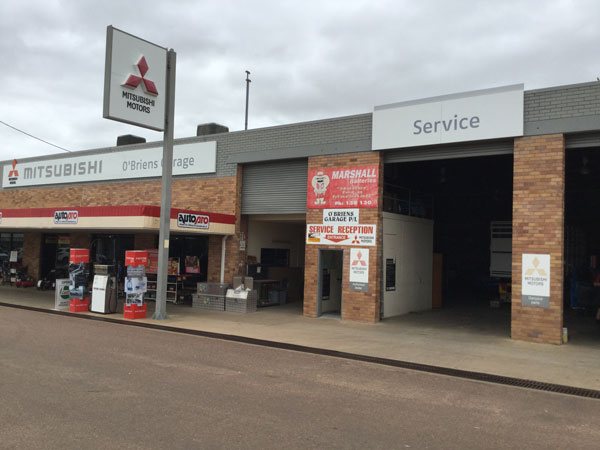 Thank you for visiting Marshall Batteries – O'Briens Garage Longreach.
Our batteries are specified to car battery OEM requirements or greater and provide specialist fitment of all automotive and marine batteries. We can meet you battery budget no matter what by offering a good battery, better battery or best battery range, all under a nation-wide warranty.
O'Briens Garage Longreach services the wider Longreach regions, so if you need a battery in Longreach, Brixton, Camoola, Ernesting, Chorregon, Maneroo, Stonehenge, Tocal, Vergemont, Morella, we can assist you.
We are a full battery specialist store with battery management systems, battery cables, battery terminals, tie-downs, battery boxes, fuses, car and trailer accessories such as trailer lock, Andersen plugs all fitted with specialist local know how.
We have everything you need in battery accessories, battery chargers, inverters, dual battery kits and battery trays, 12V battery accessories also a range of other batteries such as A ,AA, AAA Batteries, plus button batteries.
Brands available include Matson, Master Instruments, products and the legendary Marshall Battery range.
Marshall Batteries Longreach is also a Battery Collection centre. Bring your used lead acid battery to this location for safe and responsible recycling.
Environmental stewardship and recycling is a major focus in all Marshall Operations. Marshall Batteries manufactures new batteries which are 98% recyclable and 85% comprised of previously recycled materials, so help us support our environment and re-cycle Used Lead Acid Batteries (ULAB) wherever you see this sign, right across the country. 
Marshall Batteries provides a free extended battery warranty which covers you right across Australia, roadside day or night, for peace of mind.
You are covered if you "Holler for Marshall Batteries" in the Longreach and surrounding regions or visit us at our friendly location in Longreach or phone us for urgent assistance.