Store Address
Gympie Bearings,
5 Monkland Street,
GYMPIE,
QLD,
4570
Contact Details
1300 Holler (1300 465 537)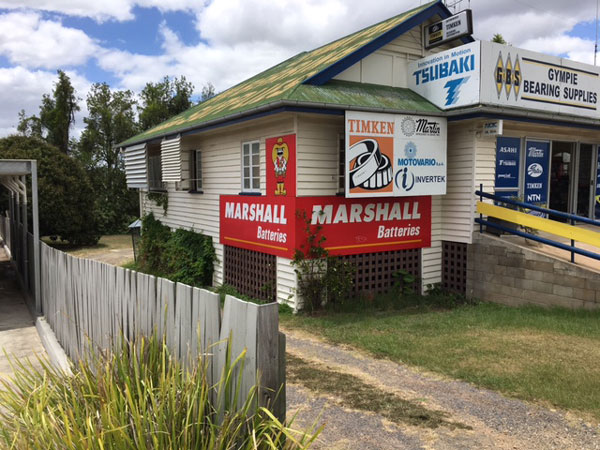 Thank you for visiting Marshall Batteries Gympie
Our local team are your Gympie battery experts and provide you with the very best advice on the complete Marshall Battery range of products and related battery accessories. With sound advice and the best battery solution, Gympie Bearing Suppliers is your one stop battery shop for all vehicles.
Not only do we do car batteries, 4WD batteries and truck batteries, but marine batteries and a range specifically designed for farming and home power as well. We can recommend and install any battery application. Our range includes lawn mower batteries, and a wide range of vehicle and marine batteries. If you need a deep cycle battery, 4x4 battery, Quad Bike battery or even a forklift battery in the Gympie region, we can assist you with the best product for your needs.
We can supply a full range of battery technologies including sealed maintenance free, low maintenance, (EFB) enhanced flooded batteries, (AGM) absorbed glass matt batteries, maintainable batteries, spill proof batteries, deep cycle batteries plus (VRLA) valve regulated lead acid batteries.
These battery technologies are designed to suit all applications for passenger vehicle batteries, stop start batteries, SUV and 4WD batteries, light commercial batteries, heavy commercial batteries, plant and equipment batteries, motorhome batteries, caravan Batteries, camper trailer batteries, golf cart batteries, marine batteries, watercraft batteries, solar batteries, industrial batteries, sweeper batteries, NBN batteries, scissor lift batteries, forklift batteries.
Our batteries are specified to car battery OEM requirements or greater and we provide specialist fitment of all batteries or you can purchase from us and fit yourself. We offer a three tiered range of good batteries, better batteries or best batteries to meet your budget and application requirements.
Gympie Bearing Suppliers supply Marshall Batteries into the wider Gympie regions including Amamoor, Amamoor Creek, Anderleigh, Banks Pocket, Beenaam Vally, Belloa Creek, Bells Bridge, Bollier, Brooloo, Calgoa, Calico Creek, Canina, Cedar Pocket, Chatsworth, Coles Creek,Acoondoo, Corella, Curra, Dagun, Downsfield, East Deep Creek, Fishmens Pocket, Gilldora, Glanmire, Glastonbury, Glen Echo, Glenmore, Goomboarian, Greens Creek, Gunalda, Gympie, Imbil, Jones Hill, Kandanga, Kandanga Creek, Kanigan Kia Ora, Kybong, Lagoon Pocket, Lake Borumba, Langshaw, Long Flat, Lower Wonga, Maradian, Marys Creek, Mc Intosh Creek, Melawondi, Miva, Monkland, Mooloo, Mothar Mountain, Munra Creek, Nahrunda, Neerdia, Neusa Vale, North Deep Creek, Paterson, Pie Creek, Ross Creek, Sandy Creek, Scotchy Pocket, Scrubby Creek, Sexton, Southside, St Marys, Tamaree, Tandier, The Dawn, The Palms, Theebine, Toolara, Toolara Forest, Traveston, Tuchekoi, Two Mile, Upper Glastonbury, Upper Kandanga, Veteran, Victory Heights, Wallu, Widgee Crossing North, Widgee Crossing South, Wilsons Pocket, Wolvi, Woolooga, Woondum so give us a call, and we will assist you.
We are a Marshall Battery stockist location with access to battery accessories including battery cables, battery terminals, tie-downs, battery boxes, battery chargers, plus the legendary Marshall Battery Range also offering specialist local know how.
Gympie Bearing Suppliers, Marshall Battery Dealer is also a Battery Collection centre. Bring your used lead acid battery to this location for safe and responsible recycling.  Environmental stewardship and recycling is a major focus in all Marshall Operations. Marshall Batteries manufactures new batteries which are 98% recyclable and 85% comprised of previously recycled materials, so help us support our environment and re-cycle Used Lead Acid Batteries (ULAB) wherever you see this sign, right across the country. 
Marshall Batteries provides a free extended battery warranty which covers you right across Australia, roadside day or night, for peace of mind.
You are covered if you "Holler for Marshall Batteries" in the Gympie and sounding regions or visit us at our friendly battery store or visit our web site: www.gympiebearings.com.au