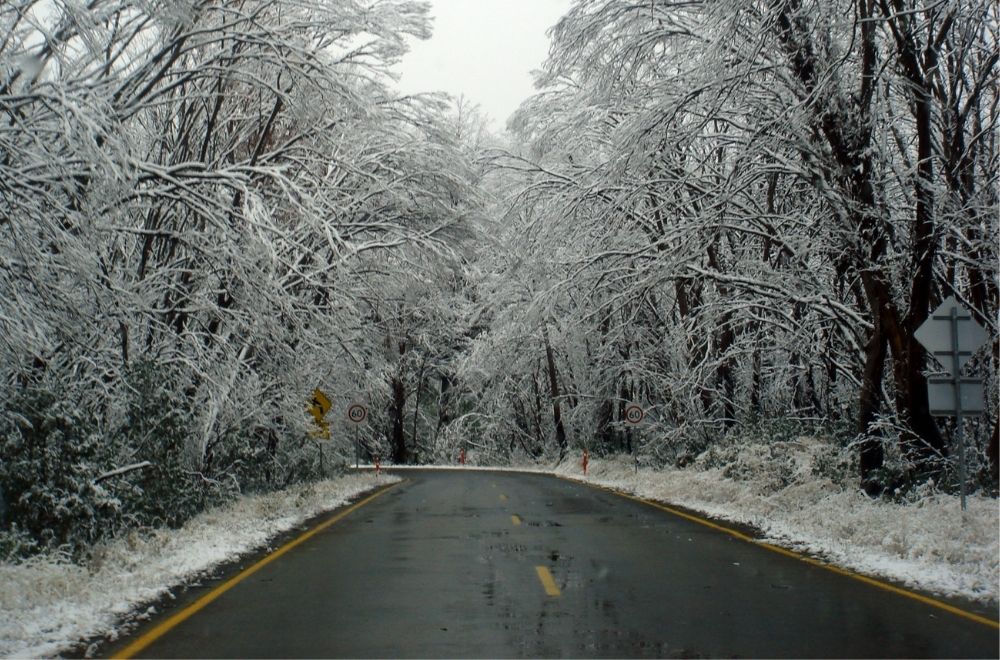 From the snow-capped mountain peaks of the Victorian Alps to historic gold-mining towns, frosty national parks and alpine lakes – there's plenty of reasons to hit the road and explore Victoria's High Country this winter.
While the majority of the region's off road trails are closed from June to November, Victoria's High Country is home to Australia's highest year-round accessible road. To help you get planning, here are some of the best winter drives through the High Plains of Victoria. 
Great Alpine Road
Winding through Victoria's High Country, the 308km Great Alpine Road stretches from Metung to Wangaratta, offering panoramic views of Falls Creek, Mount Feathertop, Mount Hotham and Victoria's highest mountain, Mount Bogong. 
Begin your journey in Metung, a quaint waterside village nestled upon Australia's largest inland lake system, the Gippsland Lakes. Heading north past Bairnsdale, make sure you stop at Buchan (for idyllic views over Tambo River or a warming Ale at Bullant Brewery), Buchan Caves (for its unique limestone formations), or the small historic mining town of Ensay (well known for its delicious local produce and wine).
Arriving in the historic gold-mining town of Omeo, prepare yourself for incredible mountain views – a glimpse from Kosciusko Lookout is a must! Travelling west from Omeo, you will continue your ascent through the Great Alpine National Park before arriving in Dinner Plains – be sure to warm up in the hot pools, explore the region's cross country ski trails or relax at Australia's highest brewery! From here, continue winding through the snow-capped alps before arriving in Mount Hotham – Victoria's highest alpine village and home to world class skiing, snowboarding and cross-country trails.
Before descending to the quaint mountain-side village of Bright, make sure you stop by Danny's Lookout for epic views of the mountain ranges. Heading north-west from Bright towards Wangaratta, you'll be rewarded with sweeping views of Mountain Buffalo National Park as you pass through an array of small towns offering some of the best local produce and wine in the region – detour to King Valley to sample local wine and cheese, stop by Myrtleford for the High Country's best coffee, and don't forget to visit the famous Beechworth Bakery. 
Mount Buffalo National Park 
If you're looking to add some cross-country or downhill skiing, winter hiking or camping (yep, you can actually camp in the Victorian Alps in winter) to your Great Alpine Road adventure, be sure to take a detour to Mount Buffalo. Alternatively, the trip to Mount Buffalo from Melbourne should take around 4 to 5 hours, if travelling via Bright.
From Bright, follow Mount Buffalo Road for around 30 minutes before arriving at The Chalet, a world heritage registered building offering incredible mountain top views. Mount Buffalo offers a range of winter activities for families, adventurers or ski enthusiasts. 
Cresta Valley is a great spot for cross-country skiing, Dingo Dell offers up family-friendly activities like tobogganing or cross-country skiing lessons, and the George Day Visitor Centre is a fantastic starting point to explore the mountain's winter walking trails. 
If camping in the snow sounds like your cup of tea, there are three camping grounds available at Mount Buffalo, all of which can be accessed via a short walk or ski from the town centre. 
Lake Eildon Loop 
A popular route for motorcyclists, this 63km round trip begins and ends in Mansfield, a popular base for hitting the slopes of Mount Buller. Mansfield is around 2 to 3 hours from Melbourne, so if you're looking for a day trip, this is the winter drive for you! 
Begin your adventure by heading south from Mansfield along Mansfield-Woods Point Road. Be prepared for incredible views as the route skirts along the southern edge of Lake Eildon. Stop by the historic town of Jamieson before following Eildon-Jamieson Road across the infamous Brewery Bridge. Enjoy the views of Big River State Forest as the winding roads lead you to the township of Eildon – a great spot to stretch the legs and take some pics of the lake up close.
From here, cruise along Utcreek Road through the picturesque mountains, forests and pastoral lands. Be sure to stop in at Alexandra, a historic town boasting buildings that date back to the 1850s when gold was first discovered in the region. Soon, you will arrive in Bonnie Doon. Made famous by the Australian film, 'The Castle,' this lakeside village provides fantastic views across Lake Eildon, and if you're lucky, the snow-capped peaks of Mount Buller. There are plenty of 4WD and off road tracks in the area, along with camping spots, that are well worth revisiting in the warmer months!
Plan your Mansfield visit here. 
Howqua Hills Historical Area
Also known as Sheepyard Flat, Howqua Hills Historical Area is located 35km south-east of Mansfield. If you're keen to capture some incredible views of Mount Buller, this is a rewarding drive that can easily be completed in a day's trip from Melbourne. 
Follow Mount Buller Road east of Mansfield before following the turn off to Howqua Track. The road is sealed and open year round, yet be sure to check for road closures before heading off. Winding through Mansfield State Forest and the enchanted waters of Howqua River, you will soon arrive at Sheepyard Flat Campsite – keep your eyes peeled for a glimpse of Mount Buller covered in snow!
The roads beyond Sheepyard Flat are generally closed in winter, but for those keen to brave the cold, there is a 3km return walk to the historic Fry's Hut. Be sure to return in the warmer months to check out Howqua Hill's many 4WD tracks, motorcycle trails and camping spots! 
Ned Kelly Touring Route 
Mansfield was once the centre of Victoria's High Country, a base for which settlers and explorers discovered gold, established agricultural townships and uncovered the region's abundance of natural beauty. If you're keen to add a little history to your High Country road trip, the Ned Kelly Touring Route is a must!
The 650km round trip from Melbourne spans across Victoria's High Country via Beechworth and Mansfield, stopping at a number of historic towns that played a significant role in Ned Kelly's conquests across the High Country. Stop by Ned Kelly's birth town in Beveridge, visit the Ned Kelly Museum in Benalla, take a tour of Old Beechworth Gaol and explore Stringybark Creek, the site in which the infamous gun battle between the Kelly Gang and police took place – all while taking in the remarkable sites of Victoria's snow-capped high country! 
Keen to explore the best winter drives in the New South Wales Snowy Mountains? Read our top picks here!
Before you head off…
During winter (usually between the Queen's Birthday and Melbourne Cup long weekends), all vehicles are required to carry chains through alpine areas. Some roads may be closed due to extreme weather conditions, so be sure to check for seasonal road closures before heading off. If you have a Diesel car or vehicle, make sure you fuel up with Alpine Diesel or purchase a cold weather additive, to avoid your diesel turning into wax or gel in temperatures lower than zero degrees. 
And of course, a good quality battery is recommended, as they do have a tendency to fail in extreme cold or heat. To make sure your battery is up for the challenge, visit one of our Marshall stores in Mansfield, Alexandra, Wangaratta or Bairnsdale for a FREE winter check on your car battery! 
For more information, check out our essential guide to driving in the snow. 
And remember, if you find yourself in need of roadside assistance on your way up the mountain, you can always holler for a Marshall on 1300 627 742.
Image: "Snow in Mount Buffalo National Park" by Parks Victoria is licensed under CC BY-NC 2.0