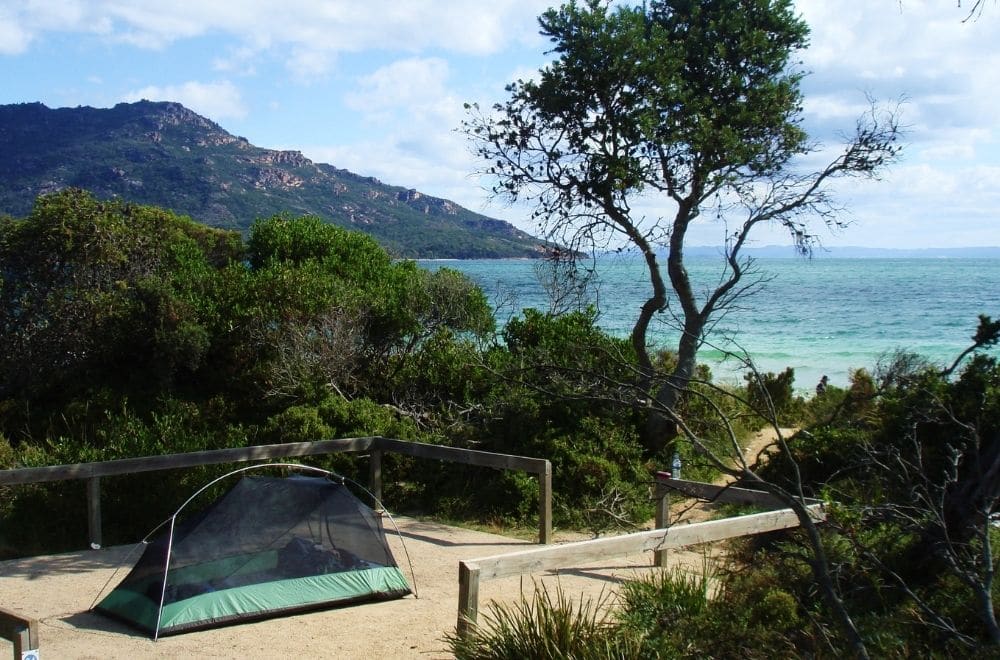 Did you know around 40% of Tasmania is made up of protected national parks and reserves? Many of which are included in the Tasmanian Wilderness World Heritage area in recognition of their unique natural and cultural significance. The best bit? Camping is permitted in a large proportion of the national parks, making Tasmania the ultimate destination to escape and immerse yourself in wilderness. Ready to pack up the camping gear and venture to Australia's most southern state? Here are some of the best camping spots Tasmania has to offer!
Strzelecki National Park – Flinders Island
Located on Flinders Island, northeast of mainland Tasmania, Strzelecki National Park is one for the adventurer's. Known by locals as 'Mountains in the Sea', the island is home to granite boulders, clear turquoise waters, remote sandy coves, Tasmanian Blue Gum forests and incredible views across the Bass Strait from its rugged coastal headlands. There is a campground located at the southern end of the island at Trousers Point, offering basic facilities for tent camping only. The campground serves as the perfect vantage point to explore the island by foot, snorkel or kayak. Furneaux Freight offers a weekly barge to the island from Bridport on the mainland.
Arthur-Pieman Conservation Area
Located on Tasmania's north-west coast, Arthur-Pieman Conservation Area lies between two rivers – Arthur River in the north, and Pieman River in the south. Gardiner Point, which lies just south of Arthur River, has been coined 'The Edge of the World' – offering infinite views across the longest uninterrupted expanse of ocean on the planet! Home to windswept beaches and some of the largest dune fields in the state, the reserve is a natural wonderland for surfers, kayakers and off-road enthusiasts. In fact, some of the state's most remarkable 4WD tracks can be found there – including The Bowl and Sandy Cape Track (featured in our best 4WD beaches in Australia article). You will need an APCA Recreational Drivers Pass if planning to venture off road. There are six campsites to choose from, offering both serviced and unserviced sites for caravans, campervans and tents. 
Cradle Mountain – Lake St Clair National Park
No visit to Tassie is complete without venturing to Lake St Clair National Park! Home to picturesque Cradle Mountain, the national park boasts alpine mountains, crystal clear glacial lakes, deep river gorges and ancient rainforest – an absolute haven for bushwalking, rafting and kayaking. Wildlife is in abundance with Tasmanian devils, wombats, echidna, quolls and platypus calling this magical place home. There are a number of powered and unpowered campsites for tents, caravans and campers – all of which are located just a short stroll to Lake St Clair and the village cafe, bar and restaurant. 
Fortescue Bay – Tasman National Park
Where Eucalypt forest meets the Tasman Sea! Located on the Tasman Peninsula in the state's south-west, Tasman National Park is home to some of the most scenic ocean views in Australia! Have your camera ready as you venture to the top of 300m tall granite cliffs, overlooking offshore islands, sea caves and unique rock formations including Tasman Arch, the Blowhole and Devils Kitchen. The coastline attracts an abundance of marine life year round, so keep your eyes peeled for Australian fur seals, little penguins, whales and dolphins. For the avid snorkelers and scuba divers, the park offers a number of vantage points to explore the many fish species that call this natural wonderland home. Rock climbers, kayakers, bushwalkers, surfers and fishing enthusiasts will also be spoilt for choice. There are two campsites located within the park. Banksia Campground offers beachfront tent camping, while Mill Park Campground offers bayside camping suitable for those with boats, campervans and caravans. 
Freycinet National Park
Known as the 'Jewel of Tasmania's East Coast,' Freycinet National Park is home to one of the state's most iconic natural wonders – Wineglass Bay. The park has a wide range of scenic beachfront and walk-in campgrounds that are guaranteed to take your breath away! From sandy beaches and sheltered bays, to rocky coves and windswept swells, the park offers an abundance of activities for all types of campers, including snorkelling, surfing, scuba diving, kayaking, fishing and of course, relaxing upon the shores of the park's incredible beaches. Friendly Beaches Campground offers oceanfront camping in the park's north with direct access to some of the region's best swimming, surfing and fishing spots. Further south, Richardsons Beach, Honeymoon Bay and Ranger Creek campgrounds offer beachfront camping along the shores of Coles Bay. For the avid hikers, there's also a walk-in campground located in the park's south – the views are well worth the trek!
Ben Lomond National Park
Alpine camping at its best! Home to just one of two ski fields in Tasmania, Ben Lomond National Park transforms into a winter wonderland during the cooler months, however, can be enjoyed year round. Sitting at 1500m high, the park's tallest summit, Legges Tor, is Tasmania's second highest peak. The alpine road into the park is a feat of its own, offering sweeping views from the ascending peaks of Jacobs Ladder. There is just one campsite located a few kilometres below the summit, with six unpowered and powered sites for tents and campervans. For those seeking a truly remote experience, campers are able to pitch up a tent within the park, as long as your site is located more than 500m from any road. 
Bay of Fires Conservation Area
Situated on the north-east coast of Tasmania, the Bay of Fires was once coined by Lonely Planet as one of the world's 'Most Beautiful Beaches.' From Binalong Bay in the south, to Eddystone Point in the north, there are numerous beachfront campsites to choose from catering to tents, campers and caravans. While the coastline is home to some of the whitest sandy beaches you'll find in Tasmania, the northern edge of the conservation area hosts Mount William National Park – a fantastic spot to soak in the coastal views from Mount William summit. With the beach on your doorstep, you'll be spoilt for water-based activities including boating, fishing, kayaking, snorkelling and swimming. 
Before you head off…
A National Park Pass is required for entry to all of Tasmania's National Parks. Most of the campsites do not require bookings and operate on a first come, first serve basis. Visit the Tasmania Parks & Wilderness Service website for more information. 
Be prepared, as some campsites offer little to no facilities including running water and at times, you may find yourself with no phone signal. Most of the parks are protected by the Tasmanian World Heritage Area, so remember to leave no trace and check local signs for camping and fire restrictions. 
Alternatively, visit the Tasmania Parks & Wilderness Service website for local information. The weather can be volatile in Australia's most southern state, so make sure you are prepared for all weather conditions, including chilly nights. 
And of course, a good quality battery is essential! To make sure your car battery is up for the challenge, visit one of our Marshall stores in Tasmania for a FREE battery check before you head off!
And remember, if you find yourself in need of assistance in Tasmani, you can always holler for a Marshall on 1300 627 742.
Keen for a spot of fishing in Tasmania? Check out our guide to Tasmania's best fishing spots! 
Image: 'Camping – Richardson's Beach – Freycinet' by mcgalio on flickr.