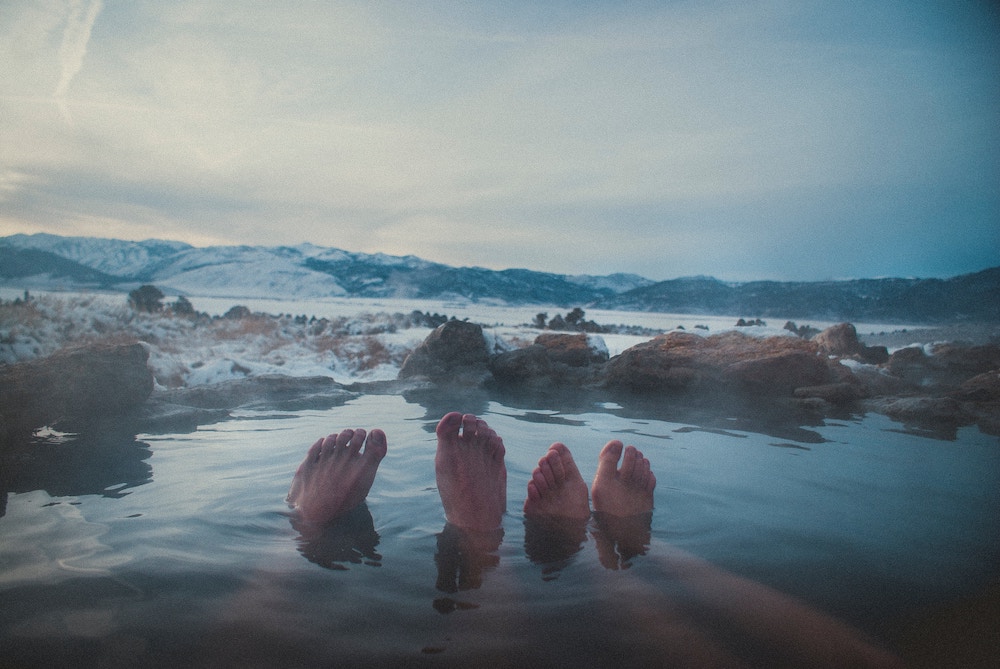 Whether it's a warming soak in the deep of winter, or a cooling splash at the height of summer, Victoria's hot springs and onsen are a relaxing and scenic way to chill out and shake off the stresses of day to day life. Here are our favourite hot springs in Victoria to soak and unwind, with some just a short drive from the city!
HOT SPRINGS
Naturally heated and rich in healing minerals, Victoria is home to world class natural geothermal hot springs. A relaxing experience, you'll be able to recharge and reconnect at the hot springs.
Peninsula Hot Springs
One of the jewels in the crown of Victoria's hot spring and spa scene, Peninsula Hot Springs is as popular with families as is it with local and international celebrities.
Inspired by the hot springs and bathing culture of Japan, brothers Charles and Richard Davidson founded the springs in 1997. Located in Fingal on the Mornington Peninsula, just over an hour south of Melbourne, and set on 42 acres of land, the Davidson brothers have created a tranquil oasis set between the rolling sand dunes of Port Phillip Bay and the lush and dense coastal bushland that makes this the perfect place to unwind.
Naturally heated to 54°C thanks to a natural geothermal aquifer of mineral rich water located 637 metres underground, you'll be able to soak away those aches and pains in both private and public spas. If 54°C sounds a little too steamy for you, there are several different spa experiences at various temperatures. If you're feeling bold, and looking for an invigorating experience, spend some time in the sauna and then take a dip in their -17°C degree plunge pool.
But it's not all mindfulness and silence at Peninsula Hot Springs. A separate, family friendly area welcomes visitors of all ages for some splashing and spa fun, with cooler and shallower pools, plenty of picnic space, and family change rooms and facilities.
With on site wellness facilities offering up massage, spa treatments, as well as fine dining, Peninsula Hot Springs is a fantastic day trip from Melbourne.
You can visit Peninsula Hot Springs website to learn more.
Hepburn Springs Bathhouse
Soaking spa loving Victorians since 1895, Hepburn Bathhouse is steeped in history and tradition.
Just an hour and a half outside of Melbourne, the healing mineral waters at Hepburn Springs have been drawing visitors for over 120 years. Located just a short ten minute drive from the popular town of Daylesford, a visit to Hepburn Bathhouse is the perfect add on to a Daylesford weekend getaway.
The town of Hepburn Springs has long been famed for its mineral waters, and the early migrant settlers from Italy, England, and Germany knew the benefits of a spa experience and brought with them bathing traditions and knowledge that are still in use today.
Hepburn Bathhouse offers a social indoor bathing area that is shared with other guests, private mineral bathing options, as well as The Sanctuary – an indoor bathing area complete with an aroma steam room, spa couches, a salt and magnesium pool for soaking aching muscles, and a tranquil outdoor creekside pool that lets bathers have a soak among the gum trees.
In addition to the bathing facilities, Hepburn Bathhouse also offers a luxe menu of spa treatment experience, packages, and luxury onsite accommodation.
Check out their website to start planning your Hepburn Springs getaway.
Deep Blue Hotel and Hot Springs Warrnambool
The newest kid on the hot springs block, the recently opened Deep Blue Hotel and Hot Springs in Warrnambool is Victoria's first hot springs hotel. Looking like something straight out of the Swiss Alps, the luxurious hotel offers amazing bathing experiences, naturally heated by a pre-historic geothermal source 850 metres below ground known as the Dilwyn aquifer. As the water travels on it's upward journey to the pools, it collects minerals along the way and arrives at the surface at temperatures ranging from 38°C to 45°C
Three hours drive from Melbourne, Deep Blue is definitely a weekender, but the luxury onsite accomodation will ensure you're not missing home one bit.
Currently, the resort only has shared and private indoor mineral bathing facilities, however they'll soon be opening an outdoor area inspired by the natural beauty of the landscape.
Throw in stunning accomodation, a range of spa treatments and massage, fine dining, and a lounge bar, and Deep Blue Hotel and Hot Springs is a luxury getaway that will leave you feeling reset and reinvigorates.
Learn more about Deep Blue Hotel and Hot Springs
JAPANESE ONSEN 
The Japanese have understood the benefit of hot springs and bathing for over a thousand years. Known as 'Onsen', bathing in Japan is rich with tradition and ritual, as well as relaxation. Onsen are becoming increasingly popular in Australia, and here are our favourite local onsen that will give you a fantastic onsen experience without the long haul fight.
Japanese Mountain Retreat
Located in Montrose, in the Dandenong Ranges, Japanese Mountain Retreat offers the best of the onsen experience alongside the calming Australian bush landscape.
Just 40 minutes east of the city, Japanese Mountain Retreat is the nearest natural hot springs to the CBD, and could easily be a great day trip, but with so many dining and accomodation options in the Dandenong Ranges – including onsite options – why not make a weekend of it? It's proximity to the city also makes it a fantastic choice for hen's getaways or a couples retreat.
With indoor and outdoor naturally heated pools, the completely private bathing at Japanese Mountain Retreat gives you the opportunity to experience the bathing experience as it's traditionally practiced in Japan: naked. If that makes feel a little exposed, don't worry, it's not a requirement, and swimwear is welcome throughout the retreat for those who prefer to keep their kit on.
Japanese dining is available in the retreat's restaurant for the full experience, and the accommodation is in the style of Japanese Ryokan, or private hotels, complete with floor level beds as well as shōji – traditional Japanese sliding paper doors.
To learn more, visit the Japanese Mountain Retreat website.
If you're in search of a water hole to cool down in near Sydney, make sure to read our list of favourite spots.
If you're planning a spa getaway, don't let car trouble ruin the serenity. Just holler for a Marshall on 1300 695 717 and we'll get you moving again and your way to soaking away those worries.