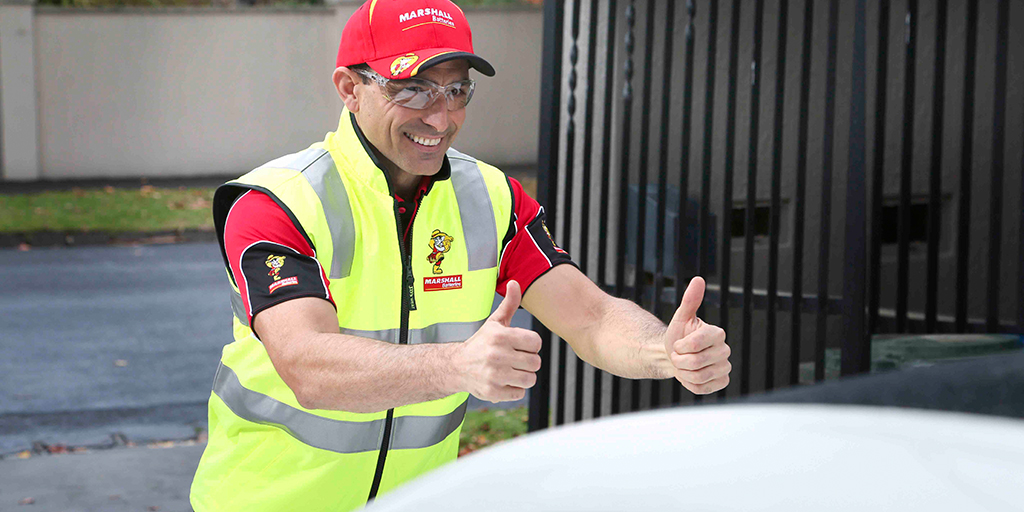 Breakdowns are inevitable; they happen to us all. Lucky there's help on hand! If you've locked your keys in the car, your fuel tank has hit empty, or you've run into unexpected trouble on the road there's a quick, easy way to get roadside assistance. Get back on the road! Help is just a holler away.
Fast Service 
When you call Marshall Batteries for roadside assistance, you will be greeted by one of our friendly experts and asked for your location. Our team will be there in a flash – or as quick as they can depending on where you are in relation to our service vans. Once our team has arrived they will do everything in their power to get you back on the road, which is a lot!
If it's your battery causing you grief Marshall can either offer you a jump start or deliver and install one of our quality Marshall Batteries to get you back on the road. Our team also offers electrical systems check to make sure your battery is correctly charging. 

If you've run out of fuel, don't panic. Our Marshall experts carry enough spare fuel to give you a top up and make sure you arrive at the next petrol station with plenty to spare. Our experts can also change tyres in a flash and should the occasion arise where you lock your keys in the car, they can access most standard vehicles to retrieve them. 

Our Roadside Rescue services are available in greater metropolitan areas of Adelaide, Brisbane, Canberra, Melbourne & Sydney.
Trained Professionals
Each member of our roadside assistance team has done this a million times before. They're efficient, friendly, experienced with all kinds of vehicles and their number one priority is to get you back on the road. From boats to trucks, our teams are familiar with the mechanics of each. With Marshall your vehicle is in safe hands.
All hours
All conditions 

rain, hail, wind or shine, Marshall is ready to hit the road and help you out of a sticky situation. We're available day or night, because these things always happen at the least convenient times. No one else saves the day (or night!) quite like our roadside assistance team. 

Cheap Prices and no membership fees EVER!
When you holler, what you pay for is what you get, and you won't be surprised by hefty roadside assistance joining fees. Anyone can Holler for a Marshall, all you need is a credit card to pay for the service once you're back on the road.
Remember, if you find yourself in a sticky situation on your next adventure, call Marshall Batteries for roadside assistance, a jump start, a new battery or even a fuel top up!
Call us on 1300 627 742 or visit us at www.marshallbatteries.com.au