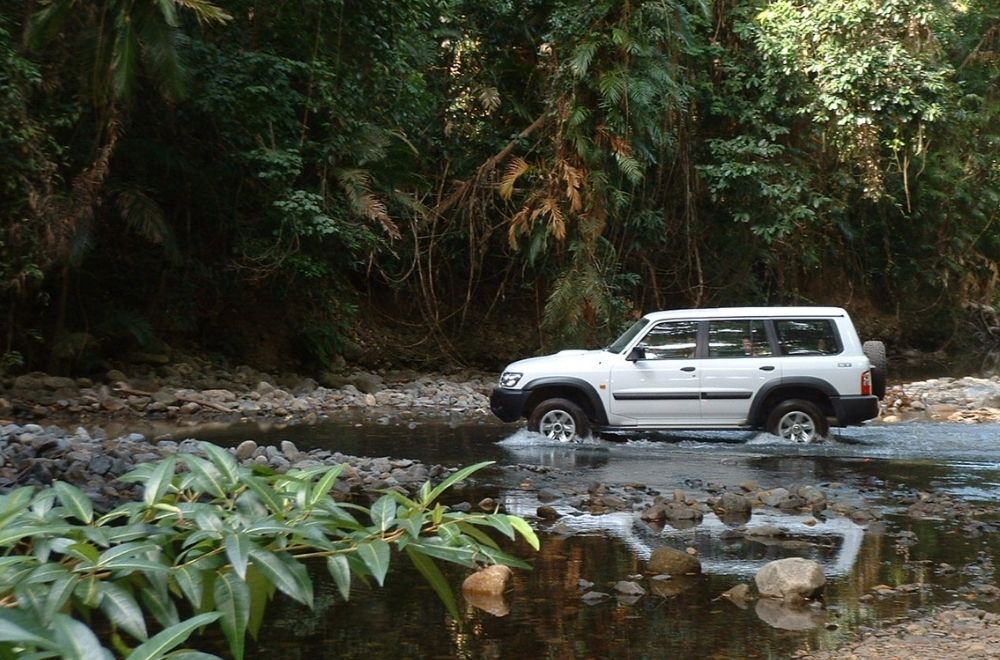 From unspoilt beaches and coral cays, to enchanted swimming holes and towering waterfalls – there's a reason why Cairns is called the adventure capital of Australia! It is in this Tropical North Queensland destination that the world's largest living organism – The Great Barrier Reef, meets the world's oldest living rainforest – the Daintree. One of the best ways to explore the region's abundance of natural wonders is by hitting the road. Whether you're keen to head north, south or inland, here are some of our top road trips from Cairns – all of which can be combined to create one great tropical adventure! 
Cairns to Innisfail – Swimming Holes Galore
Before heading south on Bruce Highway, take a slight detour to Crystal Cascades – a local hotspot for escaping the tropical heat. Surrounded by rainforest canopies, the park's freshwater swimming holes are the perfect spot to cool down and enjoy a dip. 
Back on the 'Brucey,' begin your journey south towards the charming town of Babinda. If you're keen to add a challenging hike to your road trip before cooling down in the waterholes, make a stop at Walsh's Pyramid – the highest free standing pyramid in the world. The 5 to 6 hour return hike is well worth the challenge, offering 360 degree views from the top. In Babinda, be sure to check out the iconic Babinda Bakery before taking a refreshing dip in the cascading waters of Babinda Boulders. Next stop? Josephine Falls! Nestled within Wooroonooran National Park, the crystal clear waters of Josephine Falls transform into an idyllic swimming hole with its very own natural rock slide – the perfect way to wrap up your road trip before arriving in the historic town of Innisfail. 
Innisfail to Mission Beach – Canecutter Way
Located on the banks of North and South Johnstone Rivers, the town of Innisfail is lined with art deco buildings, sugarcane and banana plantations, and museums dedicated to the town's rich agricultural history. After exploring the town, it's time to head south! 
First stop? The Australian Sugar Heritage Centre in Mourilyan to check out the steam locomotives and learn more about the region's agricultural importance. From here, take a short detour to Etty Bay Beach – a small yet secret slice of paradise frequently visited by the curious Southern Cassowary (make sure you have your camera ready)! From Mourilyan, continue south on the Bruce Highway before turning onto Bogong Road towards Paronella Park. This world heritage listed park is home to a fairytale-like castle and enchanted tea gardens that were built in the 1930s by Spanish emigrant, José Paronella. For incredible views of the park, head to the Mena Creek Falls viewing platform.
From here, continue south-east for 26km before arriving at Kurrimine Beach, where white sands meet the coral cays of King Reefs. Back on the highway, it's just a short drive to Mission Beach – home to Dunk Island, secluded white sandy beaches, towering rainforest canopies and of course, the Southern Cassowary. 
Atherton Tablelands – Waterfall Circuit 
Located around 60km south-west of Cairns, the Atherton Tablelands can be reached via various routes: inland from Innisfail; driving south-west through Gordonvale; or via National Highway for those eager to explore Kuranda – "the village in the rainforest." Whichever route you choose – sitting at 850m above sea level, the Atherton Tablelands is the ultimate road trip destination to escape the humidity.  
From the town of Millaa Millaa, discover the 17km Waterfall Circuit looping through the lush rainforests of Wooroonooran National Park and some of Australia's most photographed falls – Zillie Falls, Ellinjaa Falls and of course, Millaa Millaa Falls (made famous by Peter Andre's Mysterious Girl). The Tablelands is also home to incredible lakes ideal for fishing and watersports – some of our favourites are Lake Tinaroo and Lake Eacham.
Kirrama Range Road – Get Off The Beaten Track 
For the 4WD, camping and fishing enthusiasts, Kirrama Range Road is an alternate route from Kennedy (near Cardwell) to the southern end of the Atherton Tablelands (or vice versa). Originally built in 1941 to transport timber from Kirrama State Forest to the coast, the road has recently reopened for travellers. En route, you'll get a true sense of just how diverse Tropical North Queensland's landscape really is as you cruise across rugged ranges, via giant gorges, past cascading waterfalls and into the depths of ancient rainforest. 
Cairns to the Daintree – Great Barrier Reef Drive 
Great Barrier Reef Drive is undoubtedly one of Australia's most scenic road trips. Stretching from Cairns to Cape Tribulation, you'll be spoiled for scenery as you cruise along the northern beaches of Cairns – including Palm Cove, Ellis Beach and Trinity – past the white sands and reef formations of Coral Cay, across the cascading waters and granite boulders of Mossman Gorge, through the quaint township of Daintree Village, and into the lush rainforest peaks of Cape Tribulation. 
When arriving in Daintree Village, be sure to check out the Daintree Discovery Centre, the town's friendly cafes and local shops, and if you're up for it, spot for crocs on a Daintree River Cruise. Just a short drive from town is the Daintree River Ferry – the only way to get into Cape Tribulation. Surrounded by 17,000 hectares of ancient rainforest, waterfalls and rock pools, unique flora and fauna, and an abundance of wildlife that can be found nowhere else on earth – driving into Cape Tribulation is like stepping back in time.
With a range of accommodation options available in Cape Trib, from camping through to luxury accommodation, we highly recommend spending at least one night here. Explore the many 4WD, hiking and bike trails, learn of the region's rich indigenous history, snorkel through the cays of the Great Barrier Reef or simply relax at one of Cape Tribulation's many untouched beaches. 
Cape Tribulation to Cape York – Bloomfield Track 
Wave goodbye to civilisation as you embark on a journey to the top of mainland Australia! From mighty creek and river crossings, to ancient waterfalls, untouched beaches and communities rich in Aboriginal history and culture – there's a reason why this 103km coastal trail is known as Australia's most scenic short drive! 
The route is prone to extreme flooding, muddy crossings and fallen trees in wet season, so 4WD vehicles are recommended. However, the road is constantly undergoing development to allow 2WD access in the dryer months. Be sure to check road conditions when planning your trip. 
Ready to hit the road?
To start planning your adventure, visit the Tropical North Queensland website for more information, and don't forget to read our tips on how to prepare for the perfect road trip! 
A good quality battery is recommended as they do have a tendency to fail in extreme heat. Before you head off, make sure your battery is up for the challenge by visiting one of our Marshall stores in Manunda, Babinda or Tully.
And remember, if you find yourself in need of roadside assistance in Tropical North Queensland, you can always holler for a Marshall on 1300 627 742.
Image: "Emmagen Creek Crossing" by Peterdownunder, is licensed under CC BY-SA 3.0, via Wikimedia Commons